Tibetan Energetic Healing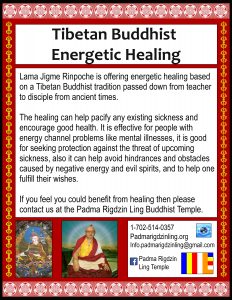 Lama Jigme Rinpoche is offering energetic healing based on a Tibetan Buddhist tradition passed down from teacher to disciple from ancient times.
The healing can help pacify any existing sickness and encourage good health. It is effective for people with energy channel problems like mental illnesses, it is good for seeking protection against the threat of upcoming sickness, also it can help avoid hindrances and obstacles caused by negative energy and evil spirits, and to help one fulfill their wishes.
If you feel you could benefit from healing then please contact us at the Padma Rigdzin Ling Buddhist Temple.
---
(It is not important how much material wealth you give in exchange for healing, but what is truly important is that you give your devotion and faith to the Lama, Buddha, Dharma and Sangha. Padma Rigdzin Ling is not a business, we are offering spiritual services for spiritual purposes, we are not existing to just make money. 
It is important to know that the whole act of receiving healing should have an exchange of something. In general you should always have devotion, faith and pure perceptions in the one you are receiving from, giving a donation is good too. The prayers and teachings are very precious, and should be held that way.
If you cannot give a lot of money, or any money at all, then that is fine, what is important is that you do give is your total faith and devotion, especially to the Lama.
An offering is very good to help show your devotion and faith, and to create merit, but it is not necessary compared to showing your faith and devotion to the Lama. Padma Rigdzin Ling is not a business, we are doing spiritual services to benefit people, not to make money.)
---