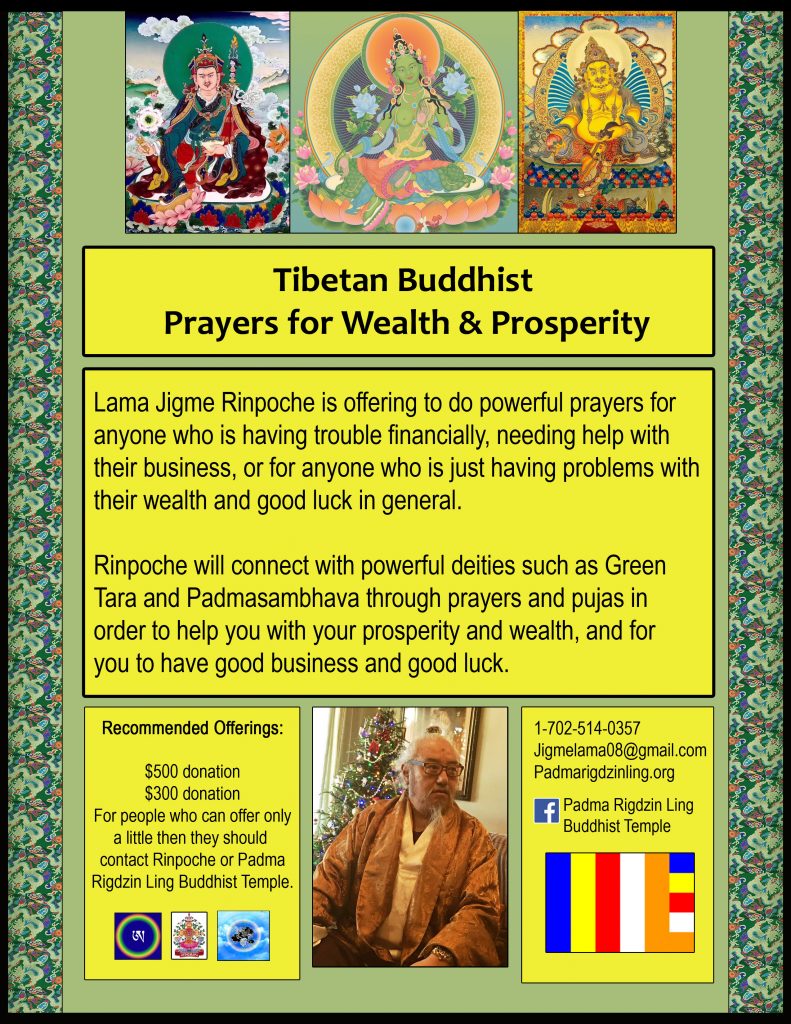 The Padma Rigdzin Ling Buddhist Temple wishes to offer powerful prayers for anyone who is having trouble financially, needing help with their business, or for anyone who is just having problems with their wealth and good luck in general.
Connecting with powerful deities such as Green Tara, Padmasambhava, and Yellow Jambhala through prayers and pujas, we will help you with your prosperity and wealth, and for you to have good business and good luck.
This Dharma will help you overcome karmic obstacles that create lack of abundance, and to help you generate wealth and prosperity.
It will help you extinguish the habit of laziness, selfishness, and ignorance which are causes to lack of abundance.
– It will also help you with:
Attracting, protecting, and increasing both wisdom and material wealth.
Removal of financial obstacles and to encourage relief from debts
Stability in flow of income
Success in your career
– Pujas such as the Tara Mandala Offering (Zabtik Drolchok) and Barche Lamsel are very effective in clearing obstacles and allowing flowing wealth, happiness and prosperity to come back into your life.
Recommended Offerings:
$500 donation
$300 donation
$100 donation
For people who can offer only a little then they should contact us.