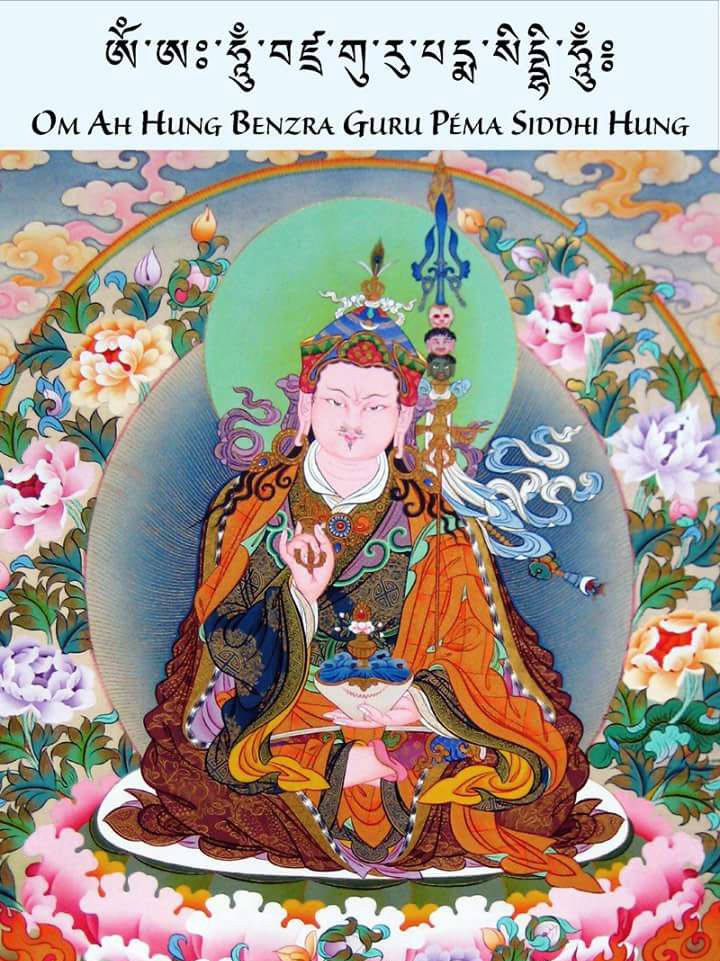 Mantra of Padmasambhava
BENEFITS OF THE VAJRA GURU MANTRA:
Om Ah Hung Benza Guru Pema Siddhi Hung
From Dilgo Khyentse Rinpoche:
"It is said that the twelve syllables of the Vajra Guru Mantra carry the entire blessing of the twelve types of teachings taught by Buddha, which are the essence of His Eighty-four Thousand Dharmas. Therefore to recite the Vajra Guru Mantra once is the equivalent to the blessing of reciting or practicing the whole teaching of the Buddha. The wisdom mind of Padmasambhava is manifested in the form of the mantra; these twelve syllables are actually the emanation of His wisdom mind, and they are endowed with His entire blessing. The Vajra Guru mantra is Padmasambhava in the form of sound. So when you invoke Him with the recitation of the twelve syllables, the blessing and merit you obtain is tremendous. In these difficult times, it is appropriate to take refuge in the Vajra Guru Mantra."
Trulshik Rinpoche says:
"For the practice of approach it is generally said that one should recite the mantra of Guru Rinpoche 1,200,000 times. If we can accomplish these 1,200,000 recitations, it is said that we will receive the blessing of Guru Rinpoche. It is also said, "With ten million siddhis, you will reborn in a place of vidyadharas." This means if you recite the Vajra Guru mantra ten million times, you will be reborn in a realm of vidyadharas. It is even said that if you recite the 1,200,000 accumulation seven times (8,400,000), you will become the same as Guru Rinpoche in this very life. By reciting the mantra ten million times (literally 'one hundred times one hundred thousand times') you will reach the stage from which you can never turn back. So the benefits of reciting the Vajra Guru mantra are truly inconceivable." 
If you wished to practice the Vajra Guru mantra then it is important to first either receive the initiation or transmission (lung) from a lineage master for this mantra.
If you wanted to receive this in way of video call or in-person from the Padma Rigdzin Ling Buddhist Temple, then please contact us.