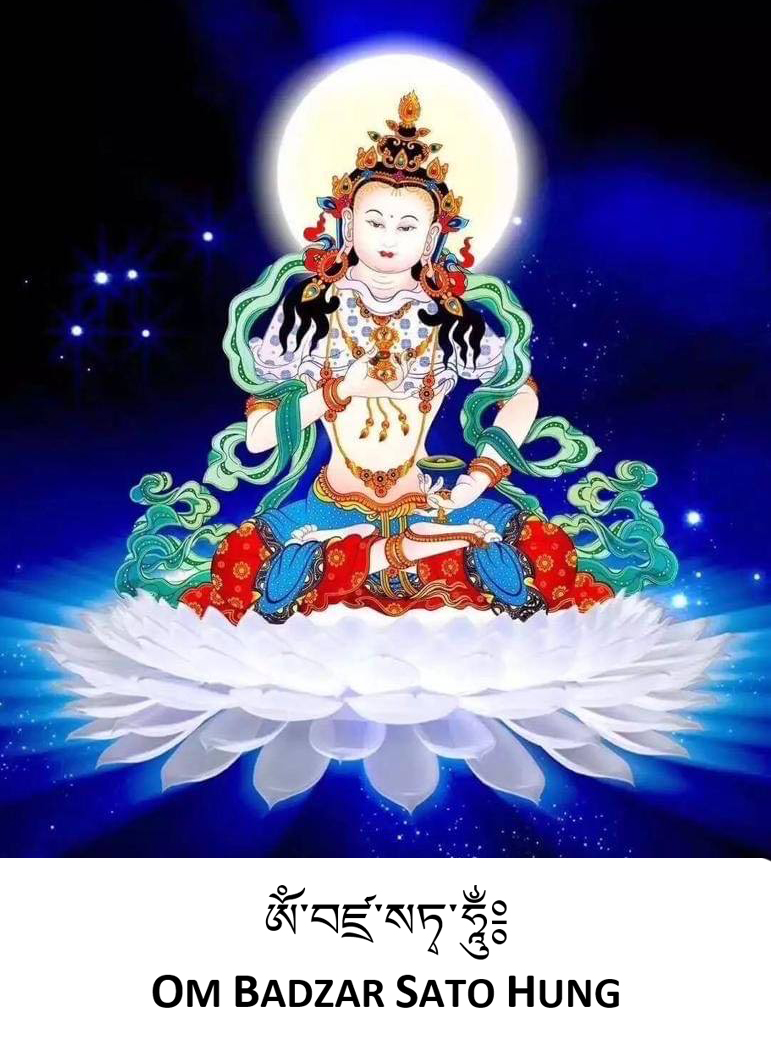 Mantra of Vajrasattva Buddha
Vajrasattva is the Buddha of Purification, through his mantra we can alleviate our negative karma and begin purifying it to remove our obscurations.
The heart essence mantra of Buddha Vajrasattva is:
'OM BADZAR SATO HUNG'
His full 100 Syllable Mantra is:
'OM BADZAR SATO SA-MA-YA, MANU PA-LA-YA, BADZAR SA-TO TE-NO-PA TITHRA, DRI DHRO ME-BHA-WA, SU-TO KHAYO ME BHA-WA, SU-PO KHAYO ME-BHA-WA, A-NU RAKTO ME-BHA-WA, SARWA SIDDHI ME-PRA YA-TSHA, SARWA KARMA SU-TSA-ME, TSITTAM SHRE-YAM, KU-RU HUNG, HA HA HA HA HO, BHA-GA-WAN, SARWA TA-THA GA-TA BADZAR MAME MUNTSA BADZRI BHA-WA MA-HA SA-MA-YA SATO AH'
The benefits of reciting the 100 Syllable Mantra according to the text 'Words of My Perfect Teacher':
If you stay undistracted and do not mix your recitation with ordinary speech, to say the hundred syllable mantra one hundred and eight times without interruption will undoubtedly purify all your evil actions and
obscurations, and all violations and breaches of vows and samayas. Such is Vajrasattva's promise.
The Tantra of Immaculate Confession says:
The hundred syllable mantra is the quintessence of the mind of all the Sugatas. It purifies all violations, all breaches, all conceptual obscurations.
It is the supreme confession, and to recite it one hundred and eight times without interruption repairs all violations and breaches and will save one from tumbling into the three lower realms.
The Buddhas of past, present and future will look on the yogi who recites it as a daily practice as their most excellent child, even in this very lifetime, and will watch over and protect him.
At his death he will undoubtedly become the finest of all the Buddhas' heirs. Whatever violations and breaches of the root and branch samayas you may commit after setting out on the path of Secret Mantra Vajrayana, the daily repetition of the hundred syllable mantra twenty-one times every day while meditating on Vajrasattva constitutes what is called "the blessing of downfalls." It will prevent the effects of those downfalls from developing or increasing. One hundred thousand recitations will completely purify all your downfalls.
According to The Essential Ornament:
To recite correctly twenty-one times
The hundred syllable mantra,
While clearly visualizing Vajrasattva
Seated on a white lotus and moon,
Constitutes the blessing of the downfalls,
Which are thus kept from increasing.
Thus the great siddhas have taught.
So practise it always.
If you recite it a hundred thousand times,
You will become the very embodiment of utter purity.
If you wanted to practice this mantra, then it is important to receive the teachings, transmissions, or empowerments from a lineage master for this particular mantra.
If you wanted to receive these things in way of video call or in-person from Lama Jigme Rinpoche and the Padma Rigdzin Ling Buddhist Temple, then please contact us.
རྙིང་དགོན་པདྨ་རིག་འཛིན་གླིང་།
(Ancient Padma Rigdzin Ling)