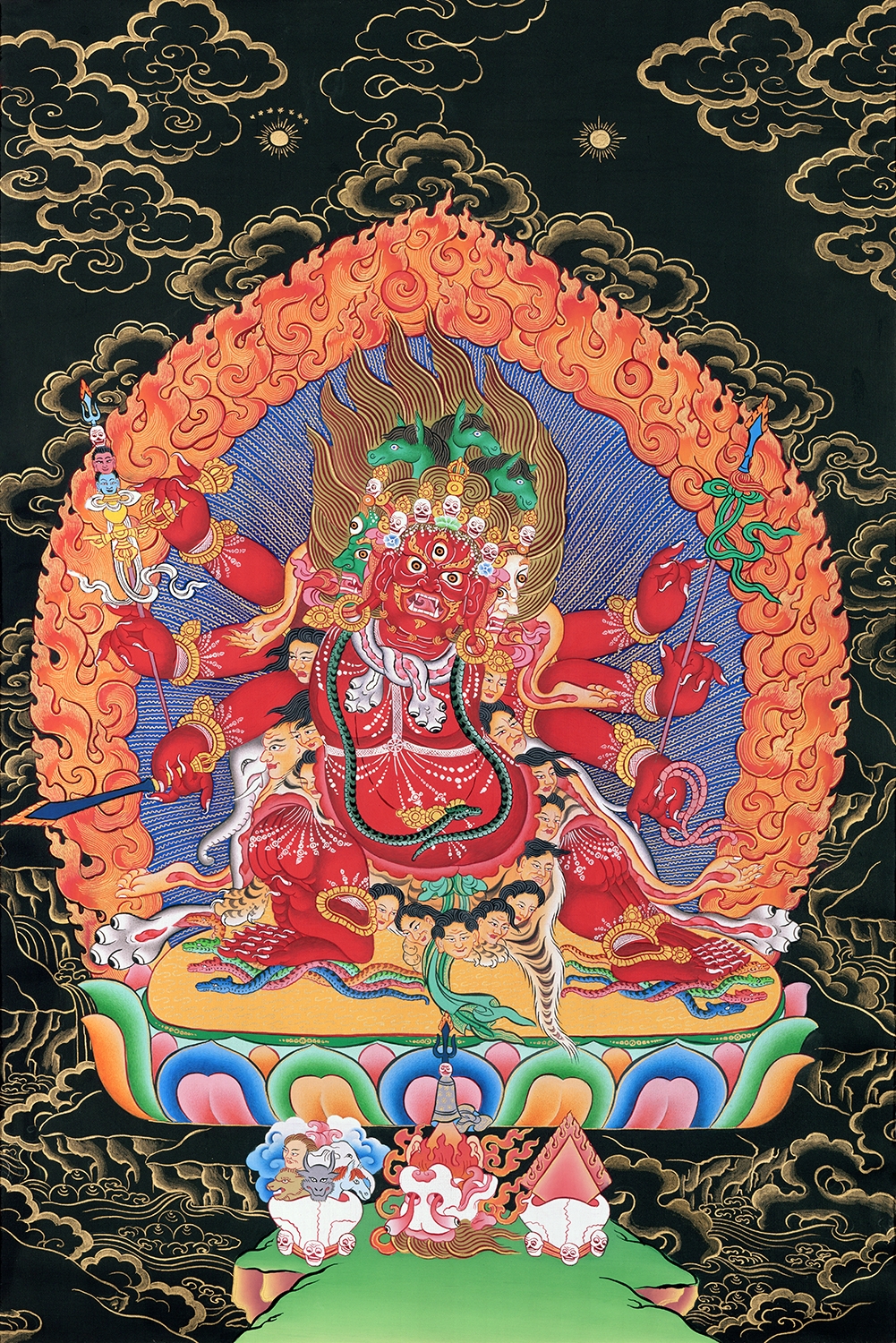 About Protector Hayagriva
Hayagriva is a special yidam and dharma protector that is a direct emanation from Amitabha Buddha. He is very useful for helping people with their obstacles. Protector Hayagriva counteracts against many different things such as: people's diseases, problems with Nagas (snake, water spirits), skin problems, sudden diseases, cancer, epilepsy caused by spirits, and in general people's interruptions to life.
He is also very powerful for subjugating dangerous environments and places, especially if they have negative energy or are haunted by evil spirits. Hayagriva's practice stops obstacles to life, he can protect us from situations where it is very dangerous and we can die. As well as protection from life threatening situations, Hayagriva works on an inner level and helps us destroy and transform our anger.
A great master (siddha) who has accomplished Hayagriva can control worldly deities and spirits and tell them what to do, to stop their negative actions. Guru Rinpoche mastered Hayagriva before coming to Tibet and used his power to subdue the hostile local demons and gods of Tibet in order to establish Buddhism in the area.
Hayagriva's secret mantra:
ཨོཾ་ཧྲིཿཔདྨ་ཏན་ཀྲིད་བཛྲ་ཀྲོ་དྷ་ཧ་ཡ་གྲི་ལྦ་ཧུ་ལུ་ཧུ་ལུ་ཧཱུཾ་ཕཌ།
OM SHRI PEMA TAHN DRIN BENZA TROH DHA HAYAGRIVA HULU HULU HUNG PHET
Please do not do this particular mantra of Hayagriva without the transmission or empowerment first from a qualified master. The mantra must be done with the transmission from a master first or else you will only create obstacles for yourself.
If you were interested in the transmission, teaching, or empowerment on Hayagriva from Lama Jigme Rinpoche then please contact us.