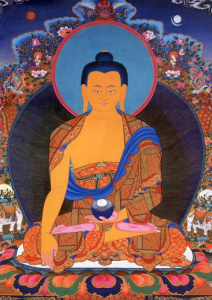 First of all, we would like to deeply thank everyone near and far, who is currently supporting the activities of Padma Rigdzin Ling Buddhist Center, and who make possible that Venerable Lama Jigme Rinpoche can remain in meditation retreat, praying for the benefit of all sentient beings and for Peace in the World.
Your help allows us to continue working for the benefit of the community, sharing the Teachings of the Buddha and transforming many lives. At the same time, your  support continues to let us protect and keep alive the rare tradition of our Lama, the Longchen Nyingthig Lineage.
Like every Wednesday, at the Lohan School of Shao Lin at 7:00 pm,  we bring to discussion the different parts of the Ngondro and the clarification on visualization exercises.
This coming Wednesday August 6th, 2014 we will be celebrating the Offering Ceremony to Padmasambhava and his Anniversary. The activity starts at 6:00pm at our location on 3335 Racquet Street. Please bring food or drinks for offering.
If you have any question, do not hesitate in contacting us. We will be very happy to assist you.