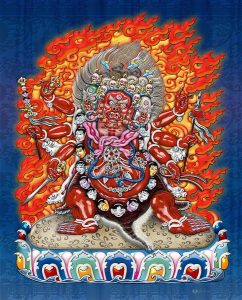 Dear friends:
We want to inform everyone about The Great Empowerment of the Hayagriwa given by Venerable Lama Jigme Namgyal Rinpoche, next Sunday January 13 at 4:00 pm at the Lohan School of Shaolin in Las Vegas, NV.
The Unique Hayagriwa is a Tutelary Deity belonging to the 3 Root Sugatas (Lama-Yiddam-Dakini) of the Lineage of Master Yogi Jigme Rinpoche in the tradition of the Longchen Nyingthig.
Hayagriwa is the wrathful manifestation of Avalokiteshvara, the Buddha of Compassion; he arises from emptiness to dispel the negative emotions of all beings, bringing peace to the Universe and everyone dwelling in it.
Hayagriwa is also the Yidam that subdues the Naga spirits, which are responsible for diseases  and sicknesses. Remember that the current exploitation of mountains, grounds, forests, oceans, rivers and natural resources, causes immense disruption, which bother the Nagas and spirits of the Water and Earth, motivating them to bring disease and suffering to the world.
Venerable Lama Jigme Rinpoche received this unique transmission from his Masters in Tibet, and from the Dalai Lama himself, who also requested Rinpoche to go into a long retreat to accomplish the practice of this extraordinary Deity.
The benefits of receiving this empowerment from an authentic Master are innumerable, but more important is that the student becomes a vessel for any Higher Tantric Teaching, for the yogas and becomes able to hold the training of the channels, energies and essences.
We are inviting everyone to receive this unique transmission, without letting this opportunity go by. 
Finally, we are requesting $20 per person to attend this ceremony. If someone cannot afford it, please contact us for a scholarship.
For further questions, do not hesitate in letting us know. We will be very happy to assist you.
EVENT: THE GREAT HAYAGRIWA EMPOWERMENT
LOCATION: LOHAN SCHOOL OF SHAOLIN, LAS VEGAS, NV
DATE: SUNDAY JANUARY 13, 2013
TIME:  4:00 PM