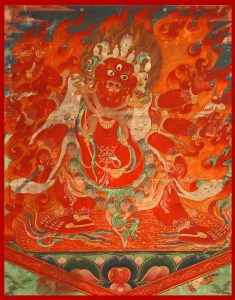 The Hayagriva Fire Puja And The Rigdzin Dupa Prayer
This coming Saturday April 24th, 2010, Lama Jigme Rinpoche is performing the Hayagriwa Fire Puja at the Bushidokan Martial Arts Temple at 12:00 pm.  This is part of the continuation of the empowerments, teachings, workshops and blessings that Rinpoche has been giving in the past months.  The Fire Puja ceremony has the power to lessen the karmic debts of beings, which are the causes of daily sicknesses, diseases, obstacles and suffering.
It will also strengthen the empowerments received and all the realizations obtained through Lama's teachings. We suggest you bring your prayer beads so that we can all pray the Hayagriwa mantra during the ceremony!!
A $10-15 donation or any object of offering to the Lama is suggested in gratitude for his kindness in helping us purify our past negative deeds and open the possibility to be reborn in a place where the Dharma is accessible.
DON'T MISS THIS GREAT OPPORTUNITY!!
TSOG AND THE RIGDZIN DUPA PRAYER FOR THE VICTIMS OF THE EARTHQUAKE!!
This Sunday April 25th, 2010 the Lama is performing the Padmasambhava Offering ceremony in the name of all the victims that lost their lives and those who lost their relatives and their homes in the earthquake of Qinghai, Tibet last week.  We remind you that participating in these pujas is a very important source of merit that will lessen the impact of our karmic debts!  It also allows our virtues and understanding to be fortified and strengthened.